Duba Plains Camp
Duba Plains Camp,is located in the northern part of the Okavango Delta.It is a private 77,000-acre reserve.
Duba Plains is inaccessible for most of the year except by aircraft.
It it this remoteness,secluded and private experience that makes Duba Plains a not to be missed location when you plan your Botswana safari.
What makes Duba plains a unique feature on the Botswana Safari circuit is the large pride of lions and huge herd of buffalo,and the interaction between the two.
Duba Plains details:
Location: Okavango Delta
Best time to visit: All year round(hot in Summer)
Rates include accommodation (sharing), all meals, scheduled camp activities, park fees, laundry, and local drinks.
Rates exclude premium imported drink brands and Champagne.
Camp activities: Game Drives, Bush Walks,Mokoro,Boating in the Delta,Birding.
This is not a Luxury Lodge per say,however with the renovation and the rich Safari experience its again one of those that need to be included due to richness of  the Safari experience.
Buffalo/Lion face off.
The lions renowned for their pursuits of the buffalo herds are a formidable force.
 Duba Plains is a year round destination due to its large concentration of plains game with the Duba Lions always a constant  threat.
It has permanent waterways that provide great bird watching, and this is good place for passing elephant herds to stop at.
Wildlife that can be see are the Red lechwe, Botswana wetland antelope,hippo, crocodile, kudu, impala, mongoose, warthog, tsessebe, and even leopard .
It's a perfect recipe: the open plains' nutritious grasses coupled with the Delta's clean clear waters to create the perfect habitat for the buffalo.
Where these herds abound the lions are not far behind.
Contrary to usual behavior the Duba lions are most often active during the day hours and many of their famous buffalo hunts occur in broad daylight.
The prides occur in extraordinary concentrations and in all combinations of ages and sexes – from young playful cubs to old wise parents and relatives.
A perfect stay at Duba is three or even four nights thereby giving guests the opportunity to learn about the lion pride dynamics and giving your self the opportunity to watch the Lion/Buffalo interaction
Duba offers just 12 guests an idyllic all-round Okavango experience throughout the year  with vast  seasonally inundated floodplains, which are home to huge herds of buffalo being a highlight.
Complemented by permanent channels and a number of larger wooded island wildlife diversity is guaranteed.
This camp prides itself on the intimacy of 'home' with all the touches of personal service and superb safari experiences.
At Duba Plains there is no required routine.Traditionally early morning and afternoon to evening are the prime times to be out in the bush;the colors are vibrant and the wildlife is at its most active.
However the camp take its cue from the whims of nature and we pride ourselves on our flexibility.
Often we set out at dawn,a time when predators are typically active,and the guides are as keen as the guests to discover the events of the previous night and what might lie ahead.
But nothing is regimented because we never know what lies ahead especially if the lions are on the hunt We've often had breakfast delivered to guests right out in the bush in their vehicles so they do not miss any sighting.
As the sun rises,raising the daytime temperatures we retreat like the herds to our shady post back in camp
As the afternoon sun begins to soften again,we return to the open floodplains in preparation for the action that arrives with sunset.
We are prepared to continue past nightfall in search of nocturnal wildlife too.
While Duba Plains is famous for its large elephant herds and lion and buffalo interactions,the plains game, bird, leopard and other sightings complete the experience.
Some days we will spend hours with a single pride of lions watching the tiny cubs playing with their mother,aunts and siblings; other days we may roam the plains absorbing the splendor of a large herd of Red lechwe running through the channels,or the area's birding including some Okavango highlights such as the rare Slaty egret and Wattled crane.
Other common species include: wildebeest, hippo, hyena, waterbuck, kudu, steenbuck, tsessebe and impala. Nocturnal species include civet, serval, African wildcat, honey badger, springhares, aardvark and aardwolf.
Made famous in Dereck and Beverly Joubert's National Geographic film Relentless Enemies,the Duba Reserve is home to extraordinary daytime lion versus buffalo interactions.
The hunting of large prey by lions is legendary but it is never a guarantee. Patience is needed. Those who stay in camp for four nights or more regularly witness this safari highlight.
Our "puddle-jumper" Toyota Land Cruiser game drive vehicle is specially designed by Dereck and Beverly Joubert, leaning heavily on their nine years of filming experience in and around the Duba Plains area.
This, and two additional brand new game drive vehicles vehicles which arrived at the end of February 2012, can travel through very high water levels and are sure to only add to the phenomenal wildlife experience Duba Plains is known for.
Each of these thoughtfully engineered game drive vehicles provide all-round visibility with removable canvas roofs, and comfortable bucket seats.
During the flood season (May – September), we may use a 10 minute boat transfer from camp to the game drive vehicles which are parked and positioned to access the prime wildlife viewing areas or take advantage of the bridge which now links the two main game viewing islands
Other exceptional activities are available by special request include sole use of a vehicle or full day drive with picnic.
Keen photographers who require special arrangements or custom routines are also encouraged to book private vehicles.
These special arrangements should be made at the time of booking and may incur additional cost.
Accommodation & Facilities
Tucked under the cool shade of large mangosteen and fig trees and looking across the reserve's vast floodplains, the six traditional "Meru-Style" sturdy canvas en-suite tents are raised off the ground on wooden decks.
This enables stunning views across the floodplain as well as capturing fresh, cool breezes.
Each of the tents has a private veranda leading to large double doors, which enter the canvas-constructed tents.High ceilings with fans and large windows bring the outside in while still affording ample privacy.
A writing desk, comfortable lounge furniture and large beds with the finest linen draped in mosquito nets make for a romantic yet authentic space.
The en-suite dressing area with a double basin vanity,indoor and outdoor showers and a flush toilet provide all the home comforts, with appropriate style and luxury.
All hot water is available 24 hours a day and is solar heated.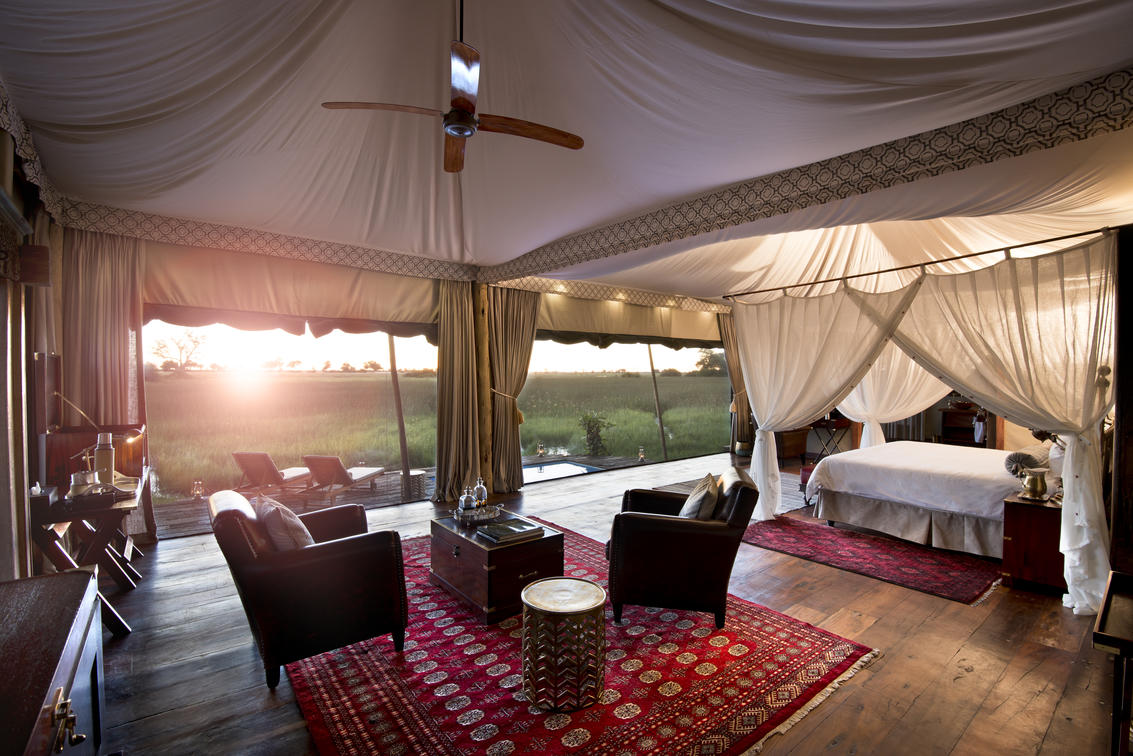 The main lounge, bar and dining room are intimate and open-air, built under vaulted thatch roofs.
An outdoor dining area for brunches and a large plunge pool are tucked away from the main area offering a refreshing afternoon retreat.
And of course the evening open-air fireplace hosts stories of each day's adventures.
An extra indulgence at Duba Plains is the masseuse area. This area, which is by the water's edge, is a perfect location for having the tension of travel removed whilst staring out across the Okavango Delta.
LAUNDRY
Laundry is done on a daily basis and is complimentary.
ELECTRICITY
The camp operates on a 220V electricity system powered by a generator that operates a few hours a day, when guests are generally not in camp. The generator charges a set of batteries, which in turn pass through an inverter system capable of converting battery power to 220V power.
This conversion supplies power 24 hours a day to the entire camp. A set of universal plug points is available in each tent. It is recommended to bring a spare set of batteries so one set can be charged while the other is out on safari.
Contact us: Africa Safari and South Africa Tour Contact form
Email: stephen@go2southafrica.com
We design your Africa experience as you want it.