Vumbura Plains Camp 
Luxury Vumbura Plains Camp has such a wide variety of habitats and species,that its possible to see nearly every animal that occurs in the Okavango Delta.
It is located in the north of the Okavango Delta.
Vumbura Plains Camp concession,has a huge traversing concession of approximately 60,000 hectares.
One of the outstanding features of this Okavango Delta Luxury Safari camp are the outstanding views of the floodplains.
The Vumbura Camp location and the quality of the game viewing experience,make this one of the best areas to experience your Africa safari in.
Vumbura Plains Camp details
Location: Okavango Delta
Best time to visit: All year round(hot in Summer)
Rates include accommodation (sharing), all meals, scheduled camp activities, park fees, laundry, and local drinks.
Rates exclude premium imported drink brands and Champagne.
Camp activities:Game Drives, Walks, Mokoro, Boating in the Delta, Birding
Vumbura Plains Camp has
two separate seven-roomed satellite camps,

each has it  own raised dining area,

lounge

bar area  

A star-gazing deck with  cushions 
These have been located under a canopy of indigenous trees .
Each large, luxurious room at Vumbura
is raised off the ground on wooden decks

has a bedroom,

lounge,

shower

en-suite bathroom.

Outdoor showers

plunge pool 

outside

  sala a place to lie and relax while you observe the Africa bush.
The Luxury tents  are  open on three sides.
What makes the Vumbura concession so unique is its position on the extreme north of the Okavango Delta.
This position encompasses such a wide variety of habitats and species that it has representatives of just about every animal that occurs in the Okavango biome.
Vumbura Plains Camp offers both land and water activities, principally nature viewing in varied habitats in open 4×4 vehicles, nature walks, mokoro trips and boat excursions.
Whilst exploring the spectacular ecology of this area, one can enjoy close-up viewing of lion, leopard, elephant, cheetah and buffalo along with all the plains game.
Type – 50% Game drives, 50% water activities (depending on flood levels)
Game drives via 6 x 10-seater open 4×4 Land Rovers each accommodating a maximum of seven guests, allowing all guests an outside seat (each vehicle is equipped with a tree book, a bird book, a mammal book, a pair of binoculars and Peaceful Sleep insect repellent in a centre consol on each row of seats).
Night drives
Walking safaris
Fishing with a limited supply of basic equipment is on offer seasonally – catch and release basis
Mokoro excursions in 6 mokoros (each mokoro seats two guests)
Two boats that seat six comfortably in each
Birding around Vumbura Plains Camp is incredible – with both variety and prolific numbers.
The Vumbura area is possibly the only area in the Okavango Delta where one can see red lechwe (an animal that inhabits the fringes of the waterways) and sable antelope (an animal that prefers the dry countryside) on the same game drive.
Vumbura Plains and Little Vumbura Camp are situated in the extreme north of the Okavango Delta in what is known locally as the Kwedi Reserve.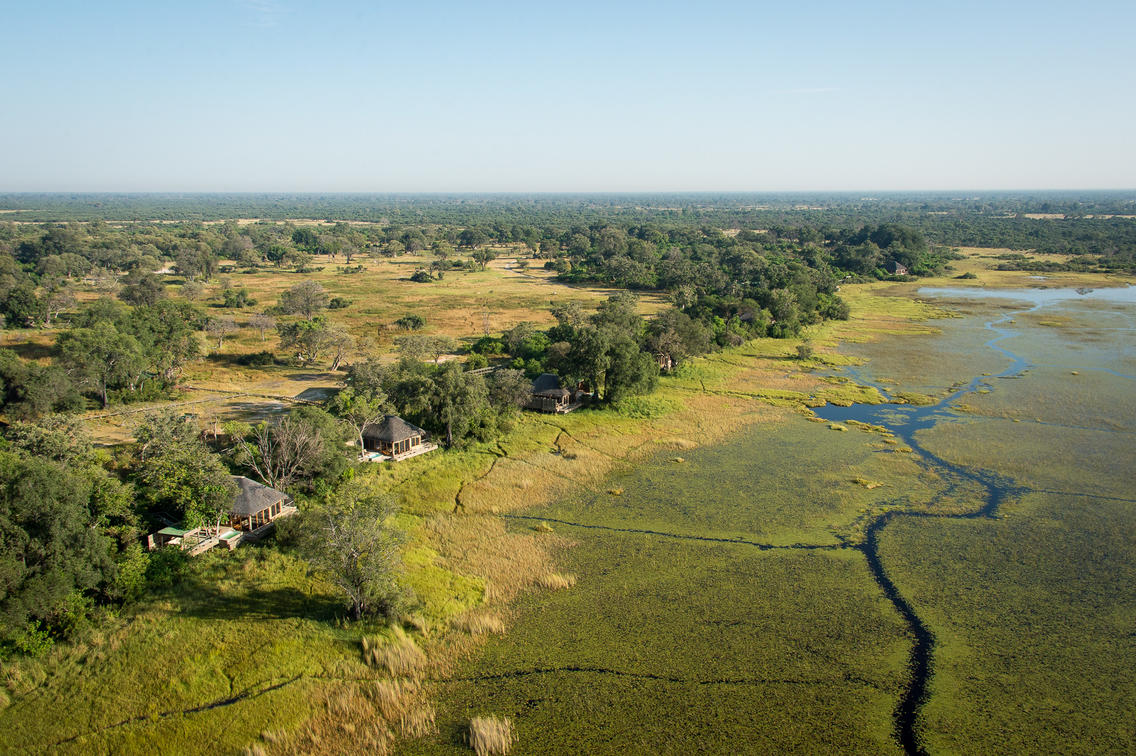 Here the vegetation ranges from open floodplains to dense mopane bushveld – offering spectacular game viewing and birding opportunities all year round.
The permanent swamp and island habitats abound with beautiful treed islands of every size, surrounded by permanent waterways created both by the summer rains and the annual winter floodwaters of the Okavango Delta.
Common trees found around Vumbura Plains Camp are the jackalberry, African mangosteen and the ubiquitous sausage tree, which provide shade food and shelter to a fantastic range of wildlife.
Game drives in this region are incredibly productive, arriving guests often sighting their first game on the trip from airstrip to camp.
The annually flooded grasslands of the Okavango Delta surrounding Vumbura Plains Camp are locally referred to as 'melapo' and offer seasonal viewing of elephant, giraffe, impala, sable antelope, kudu, zebra, common waterbuck and reedbuck, tsessebe, wildebeest, red lechwe and Cape buffalo.
Contact us: Africa Safari and South Africa Tour Contact form
Email: stephen@go2southafrica.com
We design your Africa experience as you want it.