Savuti
The National Geographic documentary film,Eternal Enemies was filmed in Savute. It the story of the battle between the lions and hyena in the area.
The famous Savuti Channel and the Savuti plains  are the main draw for this area with the wide open plains and expanse of open grass lands that during the rainy season is the target of thousands of Zebras and other grazing animals.

Savuti details:
The Savuti area in Botswana forms part of the Chobe National Park and it borders the Okavango Delta and boasts one of the greatest concentrations of animals in Southern Africa
Savuti is known for its mysterious channel that runs for 100km from the Chobe River, through a gap in the sand ridge,to the Mababe Depression.The Savuti Marsh has been dry for the past 18 years,expect for the  past few years when the Savute channel has been flowing.
The game-viewing in Savuti is very good.It makes a interesting/varied  combination with the Okavango delta,Selinda or even Chobe National Park, as it generally quite dry and arid.The other areas are quite lush.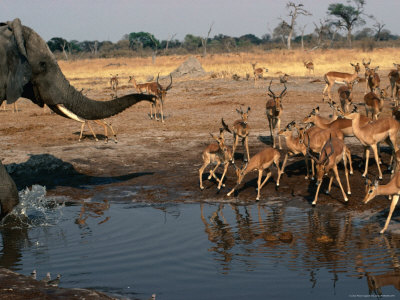 Game-viewing is exceptional
The parched grasslands of the Savuti are boosted into life with the onset of summer rains from November to March,and thousands of Zebras and many Elephants migrate south from the Linyanti to gorge on the abundant grazing.
The pans fill with water and several remain wet long into the dry season,enabling animals to remain in the area.
The Savuti area is home to the Big Bull Elephants, and has a strong pack of Lions,making this area,along the with the dryness,during the winter,and early summer,a harsh,intense area.
Best time to visit Savuti will be dependent on your interests.
In early part of the year the herds congregate once again before heading northwards again.
From May to October the seasonal water dry up and the wildlife can be found around three artificial waterholes.
September and October offers excellent game viewing as predators are concentrated around the waterholes but it can be extremely hot during this time.
This area fits in well,with the other 3 eco systems of Botswana.