Cape Town:The West Coast Day Tour
9-hours 280+ kilometres
This tour is designed to reveal in 1-day some of the West Coast.There is much to see & do,so we focus on a few areas which we will tailor make according to what you want.
                                                                                  West coast National Park Langerbaan lagoon
A restaurant in one of the min smaller fishing villages on this West Coast was awarded the # 1 ranked restaurant in its category.
You an extend this staying overnight in Langerbaan,further up the coast in Paternoster(my personal favourite), or inland in Darling
The West Coast National park and the lagoon is incredibly scenic,attracts lots of bird life,and has a wonderful restaurant..
The beach areas on this side of the coast especially the ones closer to Cape Town give one a grand view of Table Mountain and the mother city of Cape Town
The West Coast Day Tour Details
We drive north following the Atlantic Ocean out of Cape Town.
Our first stop will be the West Coast National Park – Eland, Red Hartebeest and Cape Grysbok might reveal themselves.
We  can take lunch in a small fishing village,enjoying the laid back,slow pace of this coast line.
Then we journey further back in time – 5-million years to the West Coast Fossil Park.
Dipping your toes in the Langebaan lagoon is always possible as well as a boat cruise.
!Khwa ttu The San Cultural Center is a fascinating stop,its a bushman cultural center.
Stopping at a wine farm to exercise your palate is always on the cards.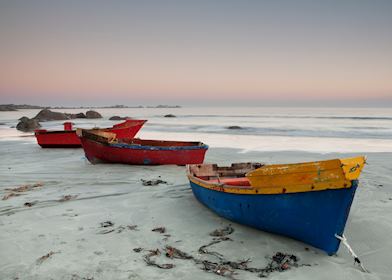 Paternoster is the gem of this area.
Beautiful white sand beach with laid back beach side restaurants with smaller guest hoses for lodging.
Its a long trip to do it in one day,would recommend a overnite stay.
For those into birding there are a couple of bird hides dotted along the coast.
Contact us: Africa Safari and South Africa Tour Contact form
Email: stephen@go2southafrica.com
We design your Africa experience as you want it.