Custom Designed Tours / Safaris.
South Africa has much travel diversity to offer,which we create for you by custom design South Africa Tours and Safaris for independent travel meaning individuals,couples,families,etc.
We purposely do not have rates on our site as rates change with seasons,availability,contracts change,etc.We like to quote updated prices.
We can be creative as we want to,as we are not set to any type of tour other than what you want.
For all our South Africa Safaris and or South Africa Tours,in addition to custom designed tours/safaris we offer:
24 hour local contact support
Meet/Greet Airport/Hotel/Safari transfers.
Private Guides for private tours when requested.
All the land lodging,guides,tours,activities,etc both city,rural and Safari.
We do all the Internal Air and can provide International quotes as we are a authorized International ticketing agency.
For groups(generally defined as more than 10 persons travelling together) we offer the same custom design services for groups,which could be a general tour of South Africa,or a more specialized theme such as birding,culinary,winelands,culture photography,safari/wildlife or incentive travel.
  Chitwa Chitwa Bathroom
A tailor made tour of South Africa takes into consideration the time you have to travel,your trip budge,and your interests/lifestyle to create the South Africa Safari and Tour experience that gets you what you want.
If you want Luxury,we do Luxury,if you want Moderate to First Class,we do Moderate to First Class, and we do combinations that are becoming increasingly popular meaning most segments are Luxury,with an activity or 2 that is geared more to the experience than the Interior design,furnishings, quantity of services etc.
There are many different experiences within South Africa from the iconic like Cape Town,Table Mountain,Cape Winelands,Robben Island,Cape Point Tour to Johannesburg with Soweto,Apartheid Museum,Pretoria etc.
Wanting to add in more active activities? Not a problem,South Africa offers many active adventure options.
How about visiting the 2 coolest neighborhoods in South Africa that was mentioned as part of a world wide list of the "worlds coolest neighborhoods"
Your South Africa holiday tour can be designed with as many or few of these as you want it to be,combined with other varied focused activities such as history,shopping,culinary,photography,safari,arts/crafts culture etc.
Stephen who will design your South Africa Tour or South Africa Safari has been designing South Africa Tours and Safaris for many years.
He designed for the National Geographic writer,a cultural tour of South Africa just prior to the 2010 World Cup,which resulted in the lead article for National Geographic for the 2010 soccer world cup.
Cape Winelands
Luxury versus experiences of value.
As a result of my knowledge,skill and experience I have come to see a new trend in travel.
Some travelers want to experience the Luxury lodging that Southern Africa has to offer,examples can be seen in our page on the Sabi Sands Game Reserve.
Luxury generally refers to the size of the lodging,unique interior design features,plus the amenities and services offered in a hotel,guest house or Africa Safari lodge.
However there is a new kind of Luxury that people are after,and its based on the value of the experience.Experience of local people,culture ways of living and unique locations.
Stephen has a specialty in the rural cultural village area  of the Eastern Cape where Nelson Mandela came from.
As an example of a custom design tour that has value in the experience, 11 N In the Footsteps of Nelson Mandela Tour.
The Eastern Cape is where you can experience a village immersion experience or do a guided walk down the gentle Wild Coast (the "wild" name does not describe the trail) with the golden sanded beach's warmer waters of the Indian Ocean and rolling green hills as your companion.We arrange for your luggage to be shuttled to the next nights lodging as you walk.
Other unknown hidden areas of South Africa that fit into this different experience of value would be the Venda area,north and north east of Kruger National Park.
Much unique art/craft's ie drum makers,wood carvers,fabric's,it has good birding with a local national bird guide,village cultural exposure,local African type religious/spiritual church services, and combines well with a visit to the Northern sector of Kruger National Park which attracts large herds of Elephants,Buffalo with the ever present carnivores,at certain types of the year,as well as offering walking safari options,
Another area is the Northern Cape area that is located within the Kalahari desert,yet it has a large green belt of wineries,small towns that make up the 2nd largest grape collective in the world,due to a major river that meanders through this area,with that along with bushman experiences,and one of my favorite Safari parks close by the Kgalagadi Transfrontier park,these region add much diversity and variety to a tour of South Africa.
These wild coast walks,village experiences,the Eastern Cape,Venda,and the Northern Cape is what I call luxury experiences that add a different value which along with the more well known South Africa tour activities,some,all,or none of these these hidden gems of the South Africa travel landscape can be included into your custom designed South Africa Tour Holiday,that giving you a wider range of travel experiences.
Stephens picks South Africa tours offer tours that are different.Much to discover.
In addition adding a component like the Eastern Cape,Venda or the Northern Cape to your South Africa Holiday experience gives you the opportunity to participate and contribute to sustainable tourism at its highs level.
The Colorful Bo Kaap area of Cape Town where we can arrange a local home Cape Malay cooking class.
This works well with a early Table Mountain visit followed by preparing then eating some local culinary dishes,followed by a Cape Town city tour that can include some walking or a coach driven tour.
What about possibly the core high lite of a trip to South or Southern Africa,a Safari  in Africa.
About Safaris.
We custom design:
Botswana Safaris
Zambia Safaris
Zimbabw Safaris.
We also tailor make Safari  for East Africa (Kenya and Tanzania) and the Gorillas  of Uganda.
Africa safari's offers much variety to meet many different types of needs, so your Africa safari whether it is a South Africa Safari, Botswana safari etc can be tailor made to fit your interest,lifestyle,budget and travel time.
Read here for more general  information which is generally generic to most Safari locations whether it be in South,Southern or East Africa About South African Safaris .
Taken in the Kgalagadi Transfrontier Park
So here are different Africa Safari possibilities or combinations that we can create for your Africa Safari.
In Kruger National Park you can do
A hotel/guest house staying outside the park and doing day game drive in Kruger National Park.
A private lodge Safari,staying inside the park
A self drive staying in the public areas of Kruger Park.
A walking Safari in Kruger Park,
A privately guided safari in the public areas of Kruger Park
Or a combination of any of these….many ways to experience a Kruger National Park Safari.Just ask us and we will create it for you.
Botswana Safari…can be a:
Private lodge game drive safari that can be designed to include a walking Safari component,staying in one area.
As is the norm for a Botswana Safari,a multiple location fly in game drive safari
A Botswana Mobile Safari with large walk in tents,beds, mattress,private en suite ablutions where the camp is set up ahead of time,a unique way to disconnect,immerse your self into the bush,which gives you more Safari time in the bush.
                                                                              Elephants drinking Chobe River  Botswana Safari.
Another feature of a Botswana Safari is that it has one of a handful of locations where you can do a river Safari on the Chobe River, part of the Chobe National Park which could be experienced
As a day tour from Victoria Falls,
A Lodge by Chobe Park,
A luxury tent
Or a houseboat Safari.
Zimbabwe Safari….where you can participate in a Canoe Safari again with different levels of camp participation, in a remote wildlife park on the Zambezi River, or do game drive Lodge Safari in Whange Park one of the oldest and wildest parks in Africa with huge herds of elephants,lots of lions and wild dogs.
So many Safari options…even within South Africa for a South Africa Safari there is possibly my favorite park the Kgalagadi Park,bigger than Kruger Park,a unique vast semi desert wildlife area with red dunes and dry river beds that is a trans frontier park between South Africa and Botswana.Its a unique wildlife experience to see a Lion or Cheetah walking across the dunes.
As well there are 2 main Malaria free parks within South Africa in 2 very contrasting locations,offering varying Safari experiences from a smaller family run moderate Safari camp to a luxury lodge that has a sleep under the Africa stars suite.
Fill out our Design Your South Africa Safari and Tour form,and together we will co design the trip  you want.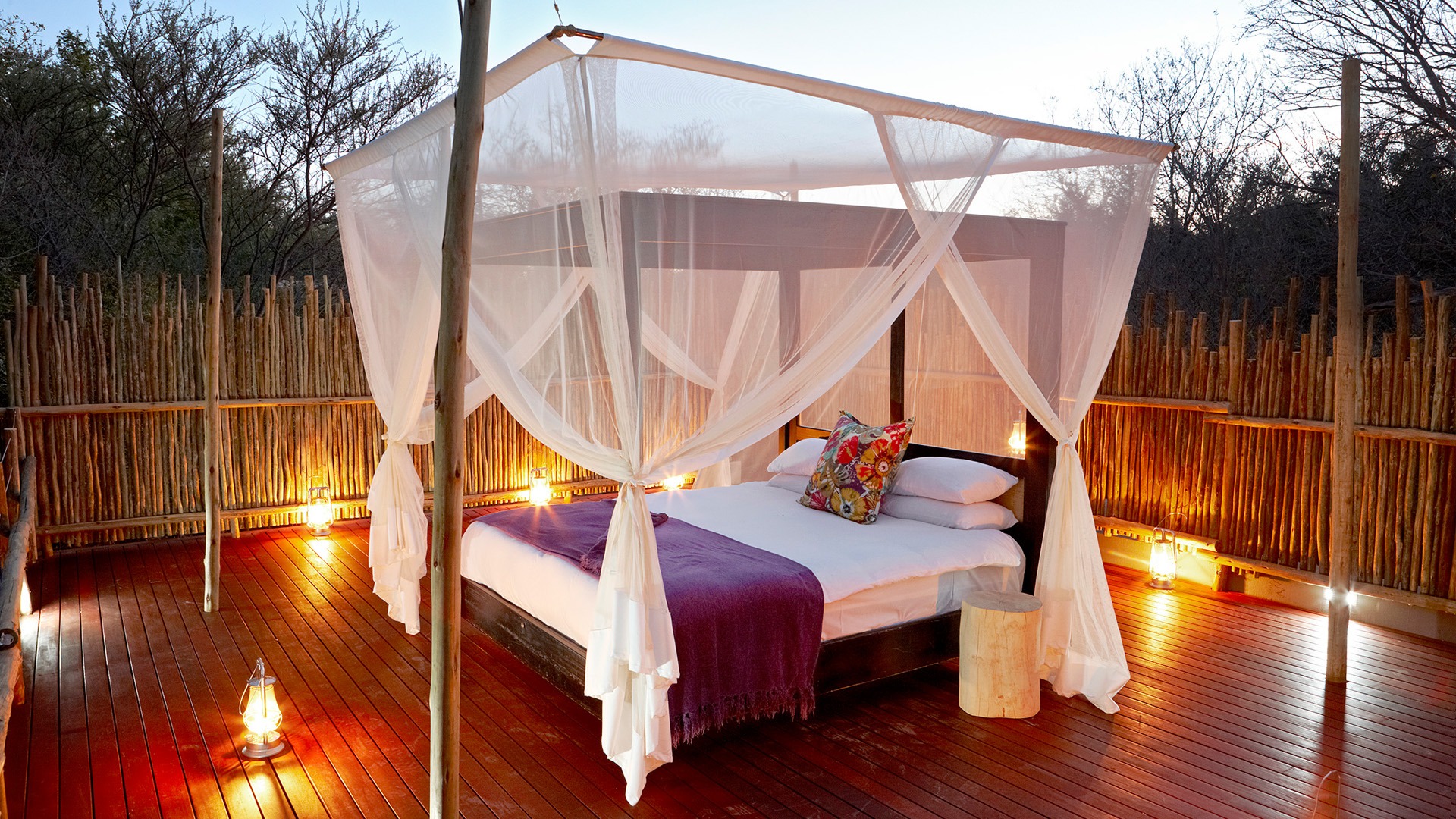 Sleep under the stars  at Jacqui Lodge Madikwe.
South Africa Tour possibilities:
You are planning your South Africa Tour Holiday,and you have so many choices, below are some ideas,possibilities to help you decide:
A South Africa Escorted Tour,or a private South Africa Tour.
Escorted South Africa Safari,or a Private Lodge South Africa Safari
Interested in Cape Town,and Cape Town day tours.
The Garden Route .
We  have special South Africa Tours for the impaired traveler.
How about a sleep under the Africa Sky sleep out,a walking Safari,Victoria Falls,Botswana mobile Safari,Village cultural immersion experience,a 2/3/4Night guided wild coast meander.
With clients from all over the world,we are experienced,and flexible in setting up phone calls,and general communication about your South Africa holiday tour.I am available to connect with you after hours,or on the weekends,according to our mutual schedule.
So many choices for your South Africa Tour.Fill out our Design Your South Africa Safari and Tour form,and together we will co design the trip  you want.
Spring Wildflowers
National Geographic Journalist Testimonial:
I guided this tour of South Africa in Nov 09,and it was a lead story for National Geographic World Cup Edition June 2010.
"Steven managed the impossible – with a kind of intuition he showed me the under-the-surface blood and heart of this remarkable country through the land we explored and the people we met until it was impossible not to want to return.
"Go2SouthAfrica was the short-cut, bolt-of-lightening way to find my way to the heart and soul of South Africa. As a Zimbabwean, I thought I knew something about southern Africa, but with Stephen's guidance, I learned layers and layers of his country that I could not even have imagined.
By turns uplifting and heart-breaking, our journey into South Africa showed me the incredible hospitality, wild magic and deep trauma of a beautiful country. I am forever grateful."
Alexandra Fuller on assignment for National Geographic (author of Dont Lets Go To The Dogs Tonite and Scribbling The Cat)
Contact us via our Design Your South Africa Safari and Tour form.
I look forward to creating your South Africa Tour.
Stephen