A Culinary journey through South Africa with Maîtres Cuisiniers de France Chef Bernard Guillas,executive Chef of the Marine Room Restaurant in San Diego, California.
Tour leader Chef Bernard Guillas San Diego California
About Chef Bernard
Maitre Cuisiniers de France and award-winning Chef Bernard Guillas joined La Jolla Beach & Tennis Club, Inc. as executive chef in June 1994.
Right at home in La Jolla, Guillas' affinity for the coastal lifestyle reminded him of his home in Brittany.
"When I lived in France, the smell of the sea and the lure of its bounty were constantly part of our table," Guillas recalls. "I'm inspired by the variety and quality of the local produce and seafood found throughout our region. I love to use my classical training and my love for global flavours in all our restaurants."
Guillas is responsible for directing the resort's three restaurants and all catering operations for the La Jolla Beach & Tennis Club, the Shores Restaurant at the La Jolla Shores Hotel, and the landmark AAA Four Diamond Rated Marine Room restaurant.
Guillas, no stranger to classic tradition, insists, "a good cook is a sorcerer who dispenses happiness on a plate.
Born into a family of butchers, bakers, and restaurateurs, Guillas' Britannic upbringing was influenced by his daily exposure to fine cuisine.
He began his formal training in 1978, at Le Bretagne Restaurant in Questembert, France, where he apprenticed with the legendary Georges Paineau.
Over the next six years he expanded his culinary knowledge with several Maitres Cuisinier de France fine dining restaurants. Jumping continents, Guillas moved on to become chef de cuisine at Le Dolmen in French Guyana. Richly diverse South American flavours still influence his food today.
In 1984, Guillas moved to Washington DC as chef tournant, chef saucier, and sous chef under Pierre Chambrin, former White House executive chef, at Maison Blanche.
In 1989, he relocated to San Diego and spent five years as chef de cuisine at the Grant Grill, located in the US Grant Hotel in San Diego's historic downtown district.
Diego's historic district. In 2001 Guillas was inducted into the International Restaurant & Hospitality Rating Bureau's American Chefs' Hall of Fame. Guillas is one of only fourteen chefs to receive this honour.
Guillas has added and self published his first cookbook, Flying Pans with co-author and chef de cuisine of the Marine Room, Ron Oliver.
Flying Pans was awarded two IACP book of the year awards in the categories of Chefs and Restaurants and the coveted People's Choice.
The cookbook was also named as IACP top three finalist in the category of Food Styling and Photography.  Flying Pans was awarded top 10 Cookbook in America at Book Expo America in 2010..
Guillas has been invited as guest chef to the prestigious James Beard House in New York. Selected as San Diego's "Best Chef" numerous times, including the Gold Medallion Awards (California Restaurant Association, San Diego Chapter) Lifestyles Magazine Readers Poll and San Diego Magazine People's and Critic's Choice.
Guillas continues to infuse the local culinary scene with his unique talent and engaging personality. Chef Guillas promotes sustainability and plays an active role in supporting his local community where he shares his passion for the culinary arts.
He travels extensively throughout the world promoting his restaurants and the San Diego region.
 Awards and Recognition for Chef Bernard
Maître Cuisinier de France Master Chefs of France    Academie Culinare de France
Chefs Hall of Fame San Diego Home/Garden Lifestyles     Chef in America American Masters of Taste Gold Medal
American Chefs Hall of Fame International Restaurant & Hospitality Rating Bureau's
Chef of the Year Award Chef Magazine
Marine Room Honors.
GoGoBot.com #1 Best Loved Restaurant USA        AAA 4-Diamond Rating, The Marine Room
Distinguished Restaurants of North America (DiRoNA) Top 500 Best Restaurants in North America
Travel and Leisure Magazine Most Romantic Restaurant in USA
About the group
Chef Bernard will be travelling with the group throughout the entire trip.
The group size will not exceed more than 20 so as to create a personal and intimate space for all.
Single supplement available.
The aim of the experience is a culinary journey through South Africa with 3 different Africa Safari park experiences.
Since we will be  a privately guided group,we have room for spontaneous improvisation such as:
When we leave the Kgalagadi I know of a bushman art/craft center. If the group wants we can stop to look,purchase, maybe even talk to the lady who runs  it.
Possibly some folks may not want to do a 2cnd day in the Kgalagadi Park,and opt to have a day by the pool, just doing nothing.
Chobe Park Botswana..Chef Bernard may cook for the group a locally caught fish meal..he will be banned from the afternoon game drive as he will be in the kitchen.
If we have time and the group want to, we can try stopover to see the very rare White Lions of the Timbivati (small extra charge)We will discuss after the group forms.
When we do our Winelands day,we can include cheese and chocolate tasting(small extra charge)We will discuss after the group forms.
When we are in Cape Town and if we have interest in a walk up Table Mountain,we can take the Cable car down, we can do that.(small extra charge)We will discuss after the group forms.
Chef Bernard Group
Johannesburg
Kapama Private Game Reserve
Cape Town
Green Kalahari
Kgalagadi Transfrontier Park
Johannesburg
Victoria Falls, Zimbabwe
Chobe River Front Botswana
16 Days / 15 Nights
October 07, 2018 – October 22, 2
Rates without International air based on discounted wire transfer or cashier's check:
$7,668.00 per person sharing, $7,975.00 by credit card.
$9,713.00 single, $10102.00 by credit card.
Rates are subject to availability at the time of booking. If certain properties are not available, like standard properties will be substituted. Rates are subject to change at any time due to global or other circumstances ie increase taxes, fuel surcharges etc. until fully paid for.
International Air:
Group rates can be obtained which will stabilize the rate. Once the group departure cities are known, a group rate will be offered.
Any group participants who arrive on flights other than the main group time, will be responsible for their own transfer costs to the hotel
Economy is showing roughly $1,600 out of San Diego, subject to change at any time.
We offer both Economy and Business Class.
Tour Overview
| | | | |
| --- | --- | --- | --- |
| Accommodation | Destination | Nights | Basis |
| Protea Hotel by Marriott O R Tambo Airport | Johannesburg | 1 | B&B |
| Kapama River Lodge | Kapama Private Game Reserve | 2 | FB+ |
| Table Bay Hotel | Cape Town | 4 | B&B,L |
| Le Must River Manor | Green Kalahari | 2 | B&B,Dx2 |
| Kgalagadi Lodge | Kgalagadi Transfrontier Park | 2 | L,Tea |
| Protea Hotel by Marriott O R Tambo Airport | Johannesburg | 1 | B&B |
| Victoria Falls Hotel | Victoria Falls, Zimbabwe | 1 | B&B |
| Chobe Game Lodge | Chobe River Front | 2 | FI |
Key
B&B: Bed and breakfast
FB+: Dinner, bed, breakfast, lunch and activities daily
FI: Fully inclusive
Included
*Meet and Assist at Johannesburg airport
* Transfer to airport Hotel
* Porterage
*All domestic and regional flights.
*15 breakfasts
*6 Lunches
*6 Dinners
*1 x night at Protea Hotel ORTambo including breakfast in standard room
* Meet and assist to Johannesburg Airport
* Transfer to airport
* Transfer MQP airport via Panorama Route to Lodge
* Panorama entrance
* 2 x nights at Kapama River Lodge Full Board
* Transfer from Lodge to MQP airport
* Transfer Cape Town Airport to Hotel
* 3 x nights at  Table Bay Hotel in a Mountain facing room including breakfast
* Full day Winelands Tour including 2 x Tastings
* Half  Day Township tour including culinary school.
* Half day Cape Point Tour including entrance To Cape Point & Boulders Beach
* Transport to Table Mountain, including Cableway entrance
* Transfer to Cape Town Airport
* Meet and assist at Upington Airport
* Transfer to airport Hotel
*2N Lodging Upinton area with breakfast.
* 2N Lodging Kgalagadi Park with x 2 Safari game drives.
*Conservation fees included for the Kgalagadi Park
* 2x Afrikaner meals plus a wine tasting sunset boat cruise.
* 1x remote Farm tea experience and a small town lunch
*Meet and assist at Johannesburg Airport.
* 1 x night at Protea Hotel OR Tambo including breakfast in standard room
* Meet and assist to Johannesburg Airport
* Transfer to airport
* Victoria Falls Transfer in and tour of the Falls
* 1 x night at Victoria Falls Hotel in a deluxe central room including breakfast
* Transfer to Chobe Game Lodge for 2N full board.
* Transfer to local airport for the flight  back to Johannesburg and then back to the USA
Excluded
* Any International not mentioned above and all taxes where applicable.
* Insurance cover
* All items of personal nature e.g. telephone calls, email, laundry service, etc.
* Gratuities and tips to hotel/lodge/camp, staff and driver/guide(s).
* Any other item(s) not included in the itinerary such as wine tastings, meals in the Upington.
* Zimbabwe single entry visa cost $55.00 Subject to change at any time.
* Botswana Tourism Tax $30.00 Subject to change at any time.
*Kgalagadi Park entrance fee ZAR 328.00 per person(about $25.00) Subject to change at any time.
All those entering South Africa on a USA passport must  have 6 months validity and 2 free visa passport pages.
For other passport holders we will have to ascertain what the visa rules  are.
Day 1:  Protea Hotel by Marriott O R Tambo Airport, Johannesburg      (Sun, October 7)

Day Itinerary
On arrival into Johannesburg in the late afternoon, you will be met by your English speaking guide and will be transferred to you hotel, situated about 10 minutes' drive away. Check in and the remainder of the evening is at your leisure.
Johannesburg
Johannesburg is one of Africa's biggest and most vibrant cities. It is the economic capital of Africa and the gateway to Southern Africa. Although not as famous as other South African destinations, there is plenty to do in Johannesburg and nearby Pretoria.
The old city is a multi-cultural mixture of traditional medicine shops, Chinese restaurants, taxi ranks and ultra modern skyscrapers. There are excellent museums, art galleries and organised tours of historical and political interest.
The shopping is Southern Africa's best and the many restaurants cater for all tastes. The nearby township of Soweto is Johannesburg's most popular tourist attraction.
Overnight: Protea Hotel by Marriott O R Tambo Airport
Time-conscious local and international business travellers will enjoy this convenient hotel located 35 minutes from Sandton and Pretoria, and situated just 800m from the Rhodesfield Gautrain Station. Whether stopping over or have an extended business stay ahead,  Protea Hotel by Marriott O R Tambo Airport has everything travellers need.
Here, no detail has been spared to ensure that business travellers can conduct their day-to-day business efficiently and comfortable, with each room provides a direct dial telephone, large executive work desk and a laptop safe.
There's also the vibrant á la carte restaurant, relaxing bar with free Wi-Fi, swimming pool and health club. If you're conducting business, ask about our state-of-the-art conference facilities.
Included
Bed & Breakfast
Day 2: Kapama River Lodge, Kapama Private Game Reserve (Mon, October 8)
Day Itinerary
After early breakfast and check out, you will be transferred back to OR Tambo International airport for your flight SA1225 departing 10h15 to Hoedspruit arriving at 11h20.
On arrival into Hoedspruit, you will be met by a guide, and transferred to Kapama RIver Lodge, where you will be staying for two nights.
Included is 2 game drives per day and under the stars gazing with African style cuisine dinners we will immerse ourselves  into the African bush. Who knows Chef Bernard may have a surprise for everyone….
Afternoon safari game drive followed by dinner.
Kapama Private Game Reserve
Offering an authentic African safari experience and stretching across 13 000 hectares, towards the Kruger area, Kapama embodies a range of stylish accommodation across four sophisticated bush camps and lodges. Each one is meticulously positioned within this wildlife sanctuary.
Kapama River Lodge and Spa, with flowing, opulently furnished public spaces and an expansive wooden deck leading to a rim-flow swimming pool. Beyond is an expanse of soft river sand, where atmospheric, lamp-lit dinners are enjoyed under the stars. Guests may choose between luxury suites, spa suites or executive suites.
Kapama is known for its diverse wildlife experiences and is home to the big five, with its two daily game drives, fascinating encounters with the prolific wildlife is ensured.
Overnight: Kapama River Lodge
Kapama Game Reserve is located in close proximity to Eastgate Airport with the lodge providing open vehicle transfers. Kapama's location in the central Lowveld region creates the perfect base from which to explore the numerous nearby attractions.
The northern Drakensberg mountain range provides a majestic backdrop to this contemporary private game lodge in the Greater Kruger National Park region. River lodge is situated within Kapama Game Reserve, and presents the perfect blend between luxurious accommodation and with 64 bedrooms, generous bed capacity.
Each of the spacious rooms features a full en-suite bathroom and enjoy uninterrupted views of this game rich, big 5, reserve.
The central guest entertainment areas include a swimming pool, lounge, bar, library, curio shop, multifunctional function venue and boma. Meals are of a buffet style and offer a variety of freshly prepared pan-African dishes
Included
Full Board and Activities
Day 3: Kapama River Lodge, Kapama Private Game Reserve (Tue, October 9)
Day Itinerary
Full day at the lodge to enjoy the facilities that the lodge has to offer as well as two daily safari game drives.
Its informal group talk with the local lodge chef and Chef Bernard will be had,focusing on Safari Lodge menu creations where its not possible to drive to the nearest store if an menu ingredient runs out.
Activities
Elephant Interaction
The elephant interaction offered by Kapama, is a unique opportunity for guests to get extremely close to the world's largest land animals. This activity offers visitors the chance to learn about African elephants, both wild and habituated, as they interact and feed these gentle giants.
This is an early morning experience starting at around 06:20 am.  Bring a hat and sunscreen with you as the day will get hotter as the sun rises.  Wear closed shoes preferably and don't forget your camera!  Then climb on board a game drive vehicle for your transfer to the designated location, where you will be met by one of the activity managers for a personal introduction to this unique elephant herd.
The elephant experience starts with a brief history of Jabulani and the rest of the herd that came to be part of this unique elephant experience.  This is a fascinating story, made even more riveting as the Elephant Manager has shared the journey of each elephant since the start of this endeavour. Learn about the bonds formed between the elephants and their grooms, and what it takes to care for this special herd.
The interaction allows you to observe these animals in their natural environment as they peacefully go about their daily routine.  Listen to amusing anecdotes about each individual elephant, each with their own quirks and antics.
You are then introduced to Jabulani and get the opportunity to feed and interact with him while learning some interesting facts about the anatomy of an elephant.  Any questions are welcomed and there is plenty of time to take those once-in-a-lifetime photographs with Jabulani. Over the years five babies have been born into the herd.
Mambo – one of these special babies – is then introduced.  This young bull elephant is full of character.  He usually comes running out of the bush when called and loves being featured in any photographs being taken. While you interact with Jabulani and Mambo, the rest of the herd can be found browsing in the bush nearby.
The herd consists of 14 elephants, ranging in age from 6 to 33 years. The 90 minute elephant interaction includes coffee and tea with biscuits. For some, this up-close interaction is a life-changing one, but for everyone it is a truly unforgettable encounter.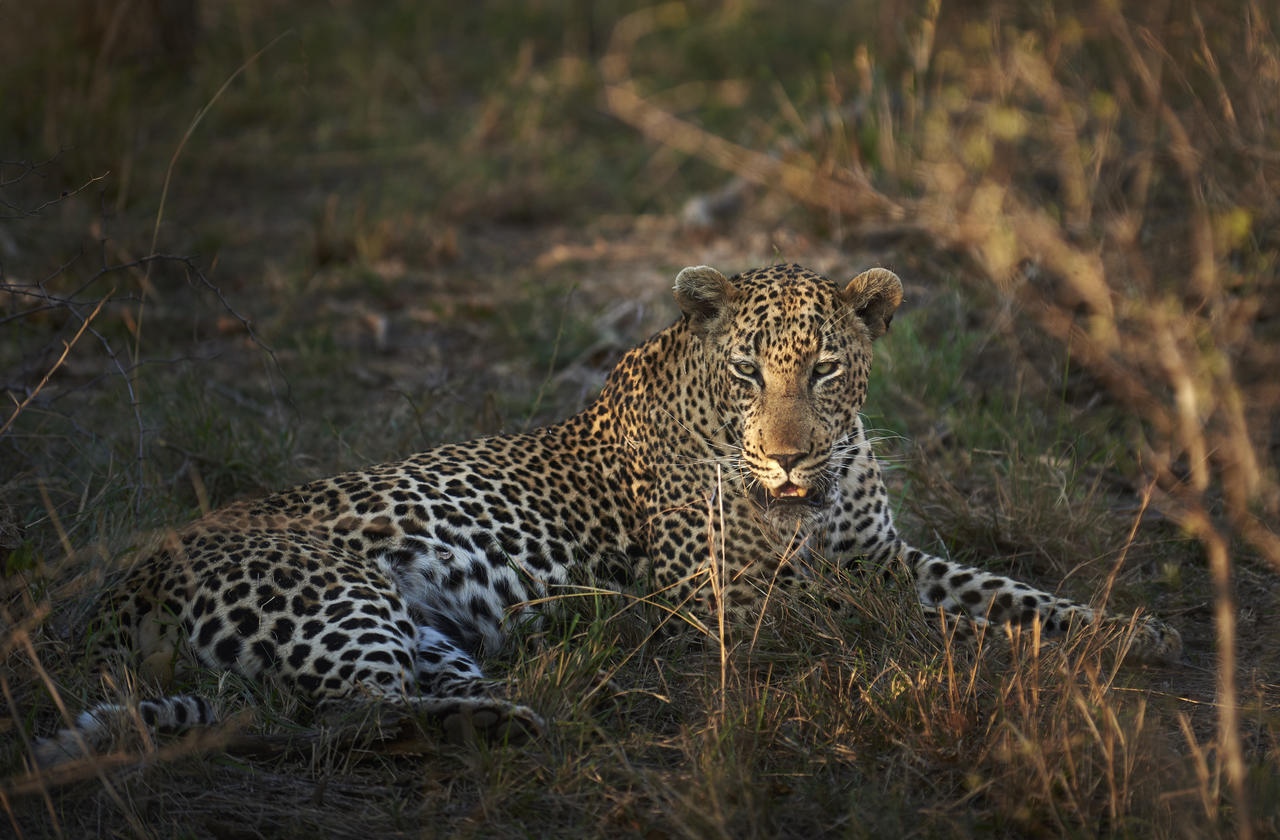 Game Drive
Across all of Kapama's lodges, two daily game drives are offered and are included in the tariff.
Accompanied by a skilled ranger and tracker, guests can expect to encounter a diverse range of animal and bird species on game drives.
Since this is a Big Five reserve, seeing lion, leopard, elephant, rhino and buffalo is possible over a two-day safari in Kapama Private Game Reserve.
The day starts with an early wake-up call between 5am and 5:30am. Tea, coffee and rusks are enjoyed together before heading out at first light.
While seeing big game is always exhilarating, there are many other smaller species that are also captivating, and birding enthusiasts will be delighted at the approximately 350 species of birds recorded on the reserve.
Halfway through the game drive, there's a stop for hot drinks and snacks, before returning to the lodge at around 9am for a full breakfast.
Throughout the day, it's likely you will see wildlife around the lodge – nyala antelope and vervet monkeys are frequent visitors, though seeing some of the Big Five is also not uncommon.
At around 3:30pm, everyone gathers for a decadent high tea, before heading out with your ranger and tracker for the afternoon game drive through the reserve. En route, you'll stop for a sundowner drink and will have a chance to stretch your legs as you watch the sun set over the distant peaks of the Drakensberg mountains.
As darkness falls, the nocturnal animals of the bush come out. The skilled tracker will scan the landscape using a spotlight, which illuminates animals' eyes. A variety of completely different species can be seen on the night drive back to the lodge.
Arrival is at the lodge is usually around 7pm, allowing time to freshen up before enjoying a sumptuous dinner.
Bush Walks
Feel Africa underfoot on a guided bush walk with a highly trained game ranger. The experience offers an intimate encounter with nature and wildlife, and medicinal and other plants are identified en route. Rangers also teach walkers to track wildlife in the traditional way, using animal footprints and scat.
Expert trackers are able to tell the gender of many animals just from their footprints. Large and dangerous animals are avoided on walks, but many other species can be viewed from a safe distance at ground level.
A bush walk through Kapama Private Game Reserve is a truly memorable and authentic encounter.
River Lodge Spa (Optional extra)
Surrounded by stillness and sweeping bushveld, the Kapama Wellness Centre takes safari spa treatments to new heights. Considered one of the finest safari spas in Africa, the six sumptuous treatment rooms are arranged around a generous central lap pool that evokes a sense of calm.
Alternatively, if you'd like to work up a sweat, the state-of-the-art mini gym is fully equipped. There is both cardio and weight-lifting equipment, depending on if you want to tone or build muscle. What is guaranteed is that a visit to the Wellness Centre will energise and uplift you for the day.
Hoedspruit Centre for Endangered Species (Optional extra)
To see rare wildlife up close, take a late morning trip – after the game drive and breakfast – to the nearby Hoedspruit Centre for Endangered Species. Here cheetah, wild dog, serval, caracal and various other species are rehabilitated and can be safely viewed from close range. Rare king cheetah can also be seen here.
An educational video is shown as part of the tour and showcases the different projects undertaken by the centre. It's followed by a guided tour to view cheetah and other fascinating wildlife. Guests to the centre will be accompanied by a Kapama lodge ranger.
Included
Full Board and Activities
Day 4:  Table Bay Hotel, Cape Town      (Wed, October 10)
Day Itinerary
After an early morning game drive and breakfast, check out and transfer to Hoedspruit airport for your flight SA1242 departing Hoedspruit at 13h10 arriving in Cape Town at 16h20.
On arrival into Cape Town, you will be met by your guide, and transferred to the Table Bay Hotel situated within walking distance to the V & A Waterfront. Here you will be staying for 3 nights.
Evening is free.Its possible the group along with Chef Bernard will choose a local restaurant for the evening. Cape Town is a food lovers paradise. Once the group has formed we will ascertain how the group wants to dine this evening.
Cape Town
Resting at the confluence of the Indian and Atlantic Ocean, sandwiched between the slopes of the iconic Table Mountain and the glistening sapphire waters of Table Bay, the exceptionally scenic city of Cape Town is in a class of its own.
Some cities boast rich culture, vibrant nightlife, a cosmopolitan atmosphere and extraordinary architecture, while others boast breathtaking  landscapes and extraordinary natural wonders.
Cape Town is lucky enough to be blessed with all of these attractions and so much more.
With its bustling harbour, world-class beaches, top-notch vineyards, and its mountainous surroundings brimming with diverse flora and fauna, Cape Town consistently captivates the hearts of all who visit.
Overnight: Table Bay Hotel
The Table Bay offers the ultimate in 5-star luxury hotel accommodation in Cape Town. Considered to be the best address in Cape Town, this sophisticated Sun International property was opened in May 1997 by former South African president, Nelson Mandela.
Situated on the historic Victoria & Alfred Waterfront, The Table Bay hotel is perfectly positioned against the stunning backdrop of Table Mountain and the Atlantic Ocean and provides easy access to the top places to visit in Cape Town.
Top reasons why you'll love The Table Bay hotel:
•Award-winning 5-star luxury hotel accommodation in Cape Town.
•Beautiful views of the working harbour and Table Mountain or across the Atlantic Ocean to Robben Island.
•Direct access to Cape Town's renowned shopping destination, the V&A Waterfront.
•Complimentary for in-house guests is a hop-on hop-off luxury shuttle service route to and from Table Mountain.
•Complimentary WiFi access throughout the hotel.
•Best breakfast buffet in Cape Town served daily.
Included
Bed & Breakfast
Day 5: Table Bay Hotel, Cape Town      (Thu, October 11)
Day Itinerary
Full day winelands tour with 2 tastings included.
We will stop for lunch at one of the local winelands restaurants.
Chef Bernard will talk about wine/food pairing as you taste different wines in the winelands.
Cape Winelands
Wine lover or not, a visit to the Cape Winelands is an absolute must as the region is one of breath taking vistas and majestic mountain backdrops while being steeped in rich culture and history.
Rolling vineyards and quaint Cape Dutch homesteads await you, as well as award-wining wine farms offering some of the country's best wines.
The winelands are divided into various different regions, each offering their own 'wine route'. The most popular and well-known are Stellenbosch, Franschhoek, Wellington and Paarl.
They are situated only a short 45 minute drive from Cape Town
Not to be forgotten are the highly acclaimed wine estates in the Constantia Valley. Also located in beautiful surroundings with stunning mountain backdrops, the Constantia Valley boasts some of the oldest estates and homesteads along with award winning wines.
Then there is the forgotten winelands,the outer winelands we call them. Here the crowds are much less, the scenery is really beautiful, with valleys of vineyards, surrounded by majestic mountains.
Cape Town is also home to many old farm style food markets, some of which are also art and craft markets, an enjoyable combination, held in varied locations across the city of Cape Town.
As well there is a large old fashioned antique/flea market as well, located close to a nice beach area
Leisurely browse stalls as the smells entice you, choose something scrumptious to take home or find a seat in the shade and munch right there.
Enjoy farm-style breakfasts, fresh bread, local olives and olive oil. As well as cupcakes, feta cheese, yoghurt, pancakes, smoked fish and chicken, homemade jams, preserves, confectionery, fresh fruit, vegetables, vegetarian delights, homemade rusks, champagne, paté, quiche, pastries, cakes, bratwurst, pickles, home-brewed organic cider,'moer koffie',honey and many more gourmet goodies.
Included
Bed & Breakfast
Excluded: Lunch and Dinner
Day 6: Table Bay Hotel, Cape Town            (Fri, October 12)
Day Itinerary
This morning we will experience a different experience of the culinary world as we go into a local township to a underprivileged culinary school.
Chef Bernard will work with the students for a short while, the group will be able to observe.
Thereafter we will we will visit one of the local organic community gardens.
It's possible while at the school we get to taste some of the students cooking.
This is a unique experience to meet aspiring young chefs, who despite originating from impoverished backgrounds, have managed to set themselves on a culinary journey.
There after we will head to Cape Point area where the currents of the Indian and Atlantic merge together. We will stop for lunch at one of the fishing villages at a local sea food restaurant. Lunch is for your own account.
Then it's on to Cape Point where (by tradition) two marine ecosystems and oceans meet. Here we will experience the grandeur of one of the highest sea cliffs in the world, the drama of the two mighty oceans meeting to become one, the scenic splendour, intriguing history and abundant visitor attractions of the Cape of Good Hope at the south-western most tip of Africa.
There is a choice to either walk up to the point or ride on the funicular.
After lunch, the coach moves through to Boulders Beach, which is home to a growing colony of the vulnerable African (or 'Jackass') penguin, which may easily be viewed at close quarters from the boardwalk.
Thereafter you drive through the historic naval base of Simon's Town. Simonstown is the location of the headquarters of the South African Navy and the town's naval associations go back to the time of the British occupation of the Cape when it was the base for their South African squadron.
Twenty-one buildings along the main street are over 150 years old, and have been restored to their original Victorian splendor.
If time permits, and you are willing, we can potter around the Bohemian-style shops of Kalk Bay.
We could continue through Muizenberg, and if we  have  time, and you decide  that you want to go to the  Kirstenbosch National Botanical Gardens, we will do that. This  garden needs a good 3hrs on wards to enjoy it..
Sprawled over 560 ha on the eastern slopes of Table Mountain, these world-renowned gardens are dedicated to the preservation of the indigenous plants of Southern Africa. Some 6000 different species are grown here, including ancient cycads and many species of protea, erica, pelargoniums and ferns. Throughout the year, the gardens are a colourful blaze of flowers, shrubs and trees.
Return to the hotel in the late afternoon
Activities
Boulders Penguin Colony
The Boulders Visitor Centre is home to the famous colony of Jackass Penguins, so called for their hilarious braying call. This is a truly special experience and Table Mountain National Park staff are knowledgeable and offer guided tours. After you have fallen in love with the penguins head to the secluded Boulders Beach and take a swim in the comparatively warm waters of the False Bay.
Cape Point
Cape Point is a spectacular sight, covered in endemic fynbos and home to breath taking bays, beaches and rolling green hills and valleys, just 60km outside of Cape Town. Cape Point falls within the Cape Floral Region, a World Heritage Site. The Cape Floral Region is one of the richest areas for plants in the world – it is home to nearly 20% of Africa's flora. Cape Point is open daily and is a must-see.
Included  Bed & Breakfast   Excluded: Lunch and Dinner
Day 7: Table Bay Hotel, Cape Town  (Sat, October 13)
Day Itinerary
We head up Table Mountain this morning, then to the local farmer's culinary market.
The local culinary market is located close to the ocean.We will wander as a group with Chef Bernard, tastings are plentiful, before everyone having there  own free time to explore the market.
Around lunch time we head to the colourful Bo-Kaap for a short cooking lesson in Cape Malay cuisine and then we all sit down to share the results of our efforts.
We will visit the local spice shop, and walk around this colorful area.
Return to our hotel between 3 and 4pm, where the remainder of the afternoon and evening is free.
Since this is our last night in Cape Town Chef Bernard  may team up with a local Chef for a private dinner at a area restaurant.
Activities
Table Mountain
Without a doubt it is Table Mountain that makes Cape Town the unique city it is. Rising up over 1000m above sea level, it is the icon that makes Cape Town instantly recognizable. It is a symbol, a playground, a spiritual retreat and a big draw card for tourists. So intertwined with the identity of Cape Town is Table Mountain that a visit to the city isn't complete without having walked or taken the cable car to the top.
Bo Kaap
The colourful suburb of Bo Kaap was exclusively for coloured Muslims during the Colonial and Apartheid times and today, this group still makes up the majority of residents. The quaint cobbled streets, the museum, the authentic purveyors of Cape cuisine and Cape Town's oldest spice emporium are all worth a visit.
Included   Bed & Breakfast, Lunch    Excluded: Dinner
Day 8:  Le Must River Manor, Green Kalahari     (Sun, October 14
Day Itinerary
We change gears to day departing the beautiful Mother City of Cape Town to the arid, rural area of the Northern Cape ,home to the Kalahari desert and Kalahari Bushman.
For the next 2 days we will immerse ourselves into the culinary world of the Afrikaner people.Chef Bernard will take a back seat as we experience the different foods/wines in this area.
However we will have a informal talk one of the evenings with a local chef, and will have a private group tour with a winemaker of a large winery.
The group will be able to taste local South African delicacies.
After our arrival 1205pm we will head to a local wine cellar for a light lunch, for your own account, with wine pairing platters or without the wine.
Time to taste some of the local cooking specialties. These cellars are part of the world second largest grape cooperative.
What is unique about this area that you will experience over the next few days, is that it has the advantage of one of South Africa's mightiest rivers flowing through the area, and as such it has a lush fertile section of wineries/vineyards/farms dotted along the river banks.
This afternoon we will visit one of the smaller towns about 1 hours drive away for a wine cellars tour, including a drive through this unique area.
There after we will visit a Calabash factory, one of the largest in South Africa who supply the product for interior design purposes.
Upon our return, we will check into our lodging for the next 2 nights, and this evening we will experience some typical Afrikaner cooking for dinner.
Green Kalahari
The Green Kalahari is the verdant part of this enormous semi-desert, with the mighty Orange River bringing intensive agriculture, a wine route and the mighty Augabies Falls to the region.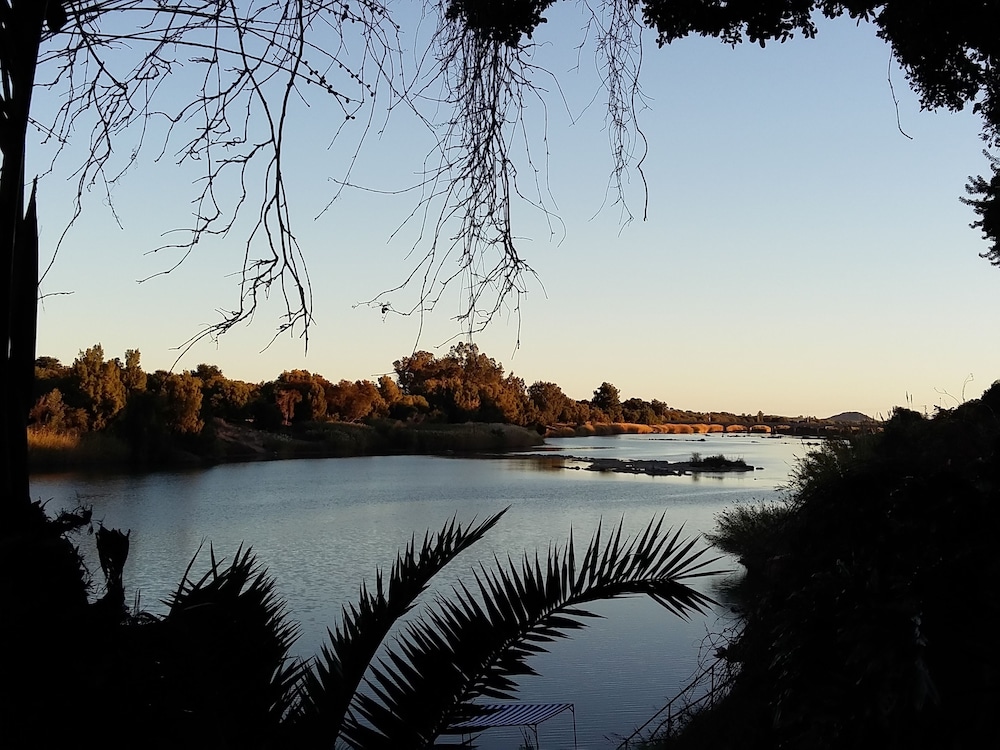 Overnight: Le Must River Manor
Le must manor is a double story Georgian style house set in lush landscaped gardens on the bank of the orange river. it is conveniently located in the central business district of Upington, the gateway to the kalahari. le must manor is an ideal stop for both business and leisure travelers.
Real home from home hospitality is offered and guests are free to use the amenities as if their own. The main lounge area is decorated with an eclectic selection of contemporary furniture and modern South African art, and filled with a large selection of international magazines and literature.
Breakfast can be enjoyed either in the breakfast room or on the covered terrace which offers exquisite views over the garden and river.
Included
Bed & Breakfast, Dinner.
Excluded: Lunch
Day 9:  Le Must River Manor, Green Kalahari     (Mon, October 15)
Day Itinerary
Today we will explore 2 other areas closer to Upington and will end the day with a sunset river cruise with drinks and have a typical Afrikaner braai (USA for barbecue).
During the day we will spend the afternoon on a in depth wine tour of a successful winery where food pairing/wine combinations will be discussed.
Our morning will begin off at a local brandy estate, followed by a drive to South Africa only inhabited island. A green oasis,where will spend time  visiting a raisin farm.
We may have lunch at this farm.
A braai is a South Africa iconic meal.The US equivalent is a BBQ.
Our hosts at the winery will prepare a dinner menu for us that is typical of what a farming family would eat at a braai.
Included
Bed & Breakfast, Dinner.
Excluded: Lunch.
Day 10:  Kgalagadi Lodge, Kgalagadi Transfrontier Park       (Tue, October 16)
Day Itinerary
We depart for the Kgalagadi National Park this morning; it's a 2 hours' drive to this unique semi dessert park that is South Africa's biggest park. Yes, it's bigger than the Kruger National Park. We will travel along the red dune route and soon it will be apparent why it's named this way.
For a unique tea break, we will be visiting one of the remote farms in the area.
You will understand why we used the word remote when you see it.
Our host for our tea break today will be treating us to some typical Afrikaner farm baking and coffee.
We will reach our lodge, all meals at the lodge will be for your own account,about lunch time.
Its situated about 5 kilometres from the park entrance.
After lunch and a siesta we will gather at around 2h30pm for an afternoon game drive.
Conservation fees will be for your own account-  R304 per day, roughly $25.00 per person. We will return once the park gates close at about 7h30pm .
Kgalagadi Transfrontier Park
Straddling the border of South Africa and Botswana, the Kgalagadi Transfrontier Park is known as one of the jewels of the desert featuring an expansive wilderness scattered with grasslands and red dunes.
For a different type of wildlife experience, many tourists head to this northwestern corner of South Africa, where the famous Kalahari Desert or, as it is now known, the Kgalagadi, starts.
The park is renowned for its predator and raptor viewing, and not surprisingly, its gemsbok, also called oryx; the elegant grey, black and white antelope with their rapier-like horns.
Visitors can look forward to many activities including: watching the migrating herds of wildebeest and springbok, spotting other wildlife on a game drive or walking through the African bushveld on a guided walking safari with a park ranger.
Overnight: Kgalagadi Lodge
Only 5km (3.1 miles) from the gate of the Kgalagadi National Transfrontier Park, The Kgalagadi Lodge offers the perfect affordable alternative to staying in the national park.
The clean, fresh style complements the area and bring together the vast array of cultures in the desert.
Strategically placed, the chalets make every morning a special treat. Seeing the sun rise from your front porch is a unforgettable experience, and this alone will make you want to return.
Then, when the sun sets in the evening and everything turns red, your seat on the dune a few steps behind your chalet will surely make for a brilliant photo opportunity…memories that will stay with you for as long as you live.
Included
Bed & Breakfast, Tea stop.
Excluded: Lunch and Dinner
Day 11: Kgalagadi Lodge, Kgalagadi Transfrontier Park       (Wed, October 17)
Day Itinerary
We will head into the park for a full day's game viewing. It's possible we can arrange some take away lunches or we will go to one of the other camp restaurants.
Excluded: Breakfast, Lunch and Dinner
Day 12: Protea Hotel by Marriott O R Tambo Airport, Johannesburg             (Thu, October 18)
Day Itinerary
Today we have choices, we will need to leave the area by 2h30pm.
For lunch we will be going to a local small restaurant where they will create for us some typical home farm home cooking.Chef Bernard will talk with the chef about local dishes etc gaining insight to family cooking secrets passed down through from the preceding generations.
In the morning we can return back into the park, or we can visit at 7h00am a Meerkat Center and take an early morning dune walk with the animals.
Its operated by a retired professor of Animal Behavior, who was trained in tracking by one of the most well-known bushman trackers. Once we are in the area, if the group wants to, we can possibly arrange some bushman interaction time.
We will stop at a bushman art/craft centre on the way back to Upington.
We fly back to Johannesburg this early evening and will stay at the local airport hotel.
Overnight: Protea Hotel by Marriott O R Tambo Airport
Time-conscious local and international business travelers will enjoy this convenient hotel located 35 minutes from Sandton and Pretoria, and situated just 800m from the Rhodesfield Gautrain Station. Whether stopping over or have an extended business stay ahead,  Protea Hotel by Marriott O R Tambo Airport has everything travellers need. Here, no detail has been spared to ensure that business travellers can conduct their day-to-day business efficiently and comfortable, with each room provides a direct dial telephone, large executive work desk and a laptop safe. There's also the vibrant á la carte restaurant, relaxing bar with free Wi-Fi, swimming pool and health club. If you're conducting business, ask about our state-of-the-art conference facilities.
Included
Lunch
Excluded: Breakfast and Dinner
Day 13: Victoria Falls Hotel, Victoria Falls, Zimbabwe      (Fri, October 19)
Day Itinerary
After breakfast, and check out, transfer to O R Tambo International for your flight to Victoria Falls.
On arrival, transfer to hotel, the Luxury old world Victoria Falls hotel.
Check in and some time to freshen up before departing for an afternoon tour of the falls. The remainder of the evening at your leisure.
Victoria Falls, Zimbabwe
Resting on the southern banks of the Zambezi River at the western end of the eponymous falls, this popular tourist town is compact enough to walk around and makes an ideal base for travellers exploring the seventh wonder of the world, the unfathomably vast Victoria Falls.
About two thirds of the falls can be viewed from the Zimbabwean side and, while the falls are undoubtedly the star attraction, the area provides both adventure seekers and sightseers with plenty of opportunities to warrant a longer stay.
Popular activities include scenic flights over the falls in helicopters or micro lights, bungee jumping off the Victoria Falls Bridge, white-water rafting (seasonal), and day trips to Chobe National Park.
The town itself offers some excellent accommodation and restaurant options as well as an eclectic variety of African curios and authentic art sold by friendly Zimbabwean locals who are wonderfully welcoming and eager to help you enjoy your stay.
Overnight: Victoria Falls Hotel
The Victoria Falls Hotel, popularly known as "the grand old lady of the Falls", is situated in the Victoria Falls National Park, and is a member of the exclusive Leading Hotels of the World group. It is one of only three IS0-accredited hotels in Zimbabwe.
The Edwardian-style five-star hotel combines the charm of the old with the convenience of the new. Set in lush tropical gardens with lily ponds, palm trees and semi-tropical shrubs, it provides the tranquility and seclusion that many guests seek.
The famous Victoria Falls are just a ten-minute walk away using the hotel's private pathway, and "the smoke that thunders" or "Mosi-O-Tunya" in the local dialect, is clearly audible and visible from this luxurious landmark.
Activities
Tour of the Falls
The Victoria Falls – Now In Its 150 Millionth Fantastic Year – Reaches Its Zenith In About May each year. It's a truly awe-inspiring experience – the sight, the sound, the smell; the humbling feeling that here indeed is Nature's Supreme Masterpiece.
No photograph can begin to depict the reality…and nothing prepares you for your first sight.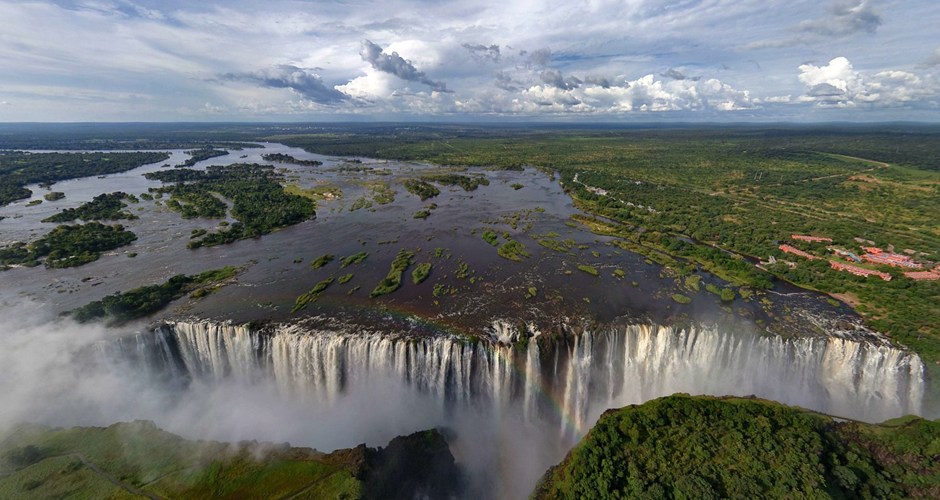 This tour is conducted in the morning and afternoon. En route, clients may be taken past the 'Big Tree' where they may stop and take photos.
Clients will be accompanied through the Rainforest by one of our qualified Guides who will give a brief history of the Falls themselves as well as detailing the flora, fauna, bird & wildlife and other points of interest.
Guides are also happy to assist clients with photographs whilst visiting this most spectacular of waterfalls.
Raincoats are provided when needed.
Included
Bed & Breakfast
Day 14: Chobe Game Lodge, Chobe River Front (Sat, October 20)
Day Itinerary
Enjoy breakfast before checking out. Transfer to Chobe park in Botswana for a 2 night safari.
Time at leisure before departing on an evening safari activity followed by dinner at the lodge.
During our time at the lodge, Chef Bernard may team up with the Lodge chef for a special meal.
As well we will have a marimba band and traditional dancers entertain us
Chobe River Front
The Chobe River forms the northern boundary of the Chobe National Park, renowned for its diverse and abundant game viewing opportunities.
This section of the park is best known for its dense concentration of wildlife including elephant and hippo populations, but the waters attract all manner of game including large herds of buffalo and the lions that prey on them.
A visit to this area guarantees close encounters with an array of African wildlife. Visitors can look forward to some exciting activities such as: driving along the game-dotted river banks in a 4WD; cruising along the river in a motorboat, spotting rare birdlife and for a unique, luxury safari experience, hire a houseboat.
Overnight: Chobe Game Lodge
Counter-balancing the wilderness are restful, air conditioned, en-suite lodgings. Graceful high arches, quarry tiled floors and barrel vaulted ceilings create an atmosphere of cool tranquility.
Other facilities include a large swimming pool with terrace, a riverside boma area, a stylish bar with an outside terrace, an expansive deck offering magnificent views over the Chobe River as well as conference facilities for business travelers.
All meals are catered for in various locations throughout the lodge including the terrace, boma and riverfront deck.
All 46 rooms are tastefully furnished, each room with hand crafted Rhodesian teak furniture and walls decorated with original African carvings and paintings.
Included
Fully Inclusive
Drinks (Local Brands) Included
Day 15: Chobe Game Lodge, Chobe River Front (Sun, October 21)
Day Itinerary
Full day at the lodge to enjoy the facilities that the lodge has to offer including two daily safari activities.
Activities
Chobe Game Lodge game viewing
Chobe's wildlife roams in abundance and diversity and is home to the largest concentration of elephant in Africa. During the dry season these large herds, as well as vast herds of buffalo, congregate along the fertile flood plains of the Chobe River where the animals come to drink, bathe and play. Lion, leopard, African wild dog, puku, red lechwe, sable, giraffe and roan antelope are often seen
Chobe Game Lodge birding experience
Birding is spectacular with Schalows turaco, barred owlet and white-browed coucal resident in the gardens as well as rosy throated longclaw, western-banded snake-eagle and hooded vulture among a few of the 450 species of the Chobe region.
Chobe Game Lodge boat cruises
Our professional all female guiding team and resident environmentalist conduct game drives and boat cruises
Included
Fully Inclusive
Drinks (Local Brands) Included
Day 16: Departure (Mon, October 22)
Day Itinerary
After a morning safari activity, followed by breakfast and check out, we will depart for Kasane Airport for our flight back to Johannesburg this afternoon.
We board our flight home to the USA this evening.