Welcome to this uniquely custom designed South Africa tour that will take us from the thrill of the Africa Bush,to the exploration of the iconic symbols of South Africa's past,and possibly the peak experience of this trip,a 2N journey into the rural village areas where Nelson Mandela came from,visiting the Nelson Mandela Musuem,and the village he was raised in.
All tour partcipants will receive pre departure detailed e docs that will contain besides the detailed trip outline,information about South Africa ie weather,electricty,suggested packing lists etc.
We will have local guides as welll tour leaders that will travel with the group.
Transporation wil be in fully air conditioned coaches.
When we travel to the Village/rural area of the Eastern Cape, 2Nights,we will break up into 2 smaller vehicles.
As you will see below,besides breakfast every day,included are 8 lunches and 4 dinners.We added those in to give you a wider culinary experience.
There are also free evenings for you to experience independently for eg the wide range of restaurant choices in Cape Town.
As well we will assist you with any special requests for your free time ie shopping, jewelry, places to walk whatever it is.
Since there are 2 proposed groups at different times,the day to day detail below is based on the April trip.
Dates for the August trip will be 20th August depart USA, depart 01st September,arrive USA on the 02nd.
These can be changed to meet the needs of the group travelling.
Key
B&B: Bed and breakfast / D, B&B: Dinner, bed and breakfast/ FB: Fully inclusive  GD: Game drives.
Note some of the lodges/hotel used may change due to space and availability at the time of confirmation.
Rates Include:
Meet & Greet service at Airports as specified.
24 hour service of our Customer Care Centre.
Accommodation, transfers, meals, day tours and activities as specified.
Hotel and airport porterage
Rates Exclude:
All items of a personal nature.
All tours, entrance fees and transfers not specified in the inclusions above.
All meals not specified in the inclusions above.
Gratuities and tips to hotel/lodge/camp, staff and driver/guide(s).
Visa fees. (USA citizens receive a free Visa on arrival.
All drinks and gratuities
07 Apr '18
Depart  USA
08 Apr '18
Meet & Greet OR Tambo Airport
Transfer to hotel to get over jet lag. Depending on which flight we take to South Africa, we will have either a Am arrival or a PM later (afternoon) into South Africa.
Situated in Johannesburg's economic heartland of Sandton,The  Protea Hotel by Marriott Johannesburg Balalaika Sandton is a four-star hotel known for its charming English countryside atmosphere.
Each of the hotel's 330 classically-styled rooms make guests feel as though they have never left home – with a king-size bed, LCD television, electronic safe and a full en-suite bathroom with a walk-in shower.
The hotel features lush, landscaped gardens and sparkling swimming pool where guests can relax, unwind & experience the timelessness and calm of a bygone era.
Two restaurants provide exceptional on-site dining, including the popular Bull Run Restaurant for steakhouse favourites, as well on-site amenities that include a fitness facility.
Standard En Suite Rooms:
Air-conditioning
LCD flat screen and DSTV,
Free Wi-Fi.
Non Smoking Rooms
High-Speed Internet Access Guest rooms Complimentary Wireless ,
Lobby and public areas: Complimentary Wireless
Protea Hotel Balalaika, standard room        BB
09 Apr
Full day Soweto & Apartheid Museum.
Your guide to day grew up in Soweto,and runs a successful tour guiding operation based in Soweto.
Joe is a good example of someone who took the opportunity of democracy,saw a different dream for himself and successfully pursued it
Apartheid Museum
The Apartheid Museum opened in 2001 and is acknowledged as the pre-eminent museum in the world dealing with 20th century South Africa, at the heart of which is the apartheid story.
The Apartheid Museum, the first of its kind, illustrates the rise and fall of apartheid.
An architectural consortium, comprising several leading architectural firms, conceptualised the design of the building on a seven-hectare stand. The museum is a superb example of design, space and landscape offering the international community a unique South African experience.
The exhibits have been assembled and organised by a multi-disciplinary team of curators, film-makers, historians and designers. They include provocative film footage, photographs, text panels and artefacts illustrating the events and human stories that are part of the epic saga, known as apartheid.
A series of 22 individual exhibition areas takes the visitor through a dramatic emotional journey that tells a story of a state-sanctioned system based on racial discrimination and the struggle of the majority to overthrow this tyranny.
For anyone wanting to understand and experience what apartheid South Africa was really like, a visit to the Apartheid Museum is fundamental.
Soweto
Johannesburg's biggest township and tourist attraction.
Regina Mundi Church
Regina Mundi Church, built in 1961 is located in Rockville, Soweto, South Africa. As the largest Roman Catholic Church in the country, the enormous interior can accommodate up to 5000 people. Regina Mundi is well renowned for its pivotal role during in the anti-apartheid struggle when the church provided a refuge to activists. It also served as the site of the Truth and Reconciliation Commission hearings from 1995 to 1998, the church is now a major historic attraction.
Hector Pieterson Museum
On 16 June 1976 in the Johannesburg township of Soweto, what began as a peaceful march in the name of educational reforms turned to chaos when police troops responded to the demonstrating students with a barrage of live bullets and teargas. One of the most tragic casualties of this debacle was 13-year-old Hector Pieterson, who was killed when he was caught in the cross fire. The Hector Museum, located close to the site of his death, was built to commemorate his untimely passing and the events that ultimately caused it.
Mandela Family Museum
The Mandela Family Museum is where Nelson Mandela, as a lawyer and political activist, lived with his family from 1946 to 1961 – initially with his first wife, Evelyn Mandela, until their divorce and later with his second wife, Winnie Madikazela Mandela – before going on the run from the law.  While he was in jail his family continued to live here.  The small "matchbox" house has been converted into a Museum displaying an array of multimedia diplays, photographs and the great man's memorabilia.
Lunch at Sakhumzi's Restaurant                                                      L
Protea Hotel Balalaika, standard room                                              BB
10 Apr '18
Full day Alexandra township & Pretoria.
Your guide today has been nominated for his social outreach work in the impoverished township of Alexandra.
He has also written a book on the Afrikaner Voortrekker's.
We will visit the creche that he started.
He is a dynamic guide that will give you a wide range of information that will help you understand the South Africa of today.
Visit Alexandra Township
Lunch in Alexandra                                                                              L
Transfer to Pretoria
Through visiting Soweto,Apartheid Museum and the Voortrekker Monument,you will gain an understanding of South Africa past,that has lead it to the present.
The question is,as the title of this tour asks…Has that dream been realized ?
Protea Hotel Balalaika, standard room                                              BB
10 Apr '18
Today we leave for our 2N Africa Safari immersion.
You will have 2 x game drives per day.
Meet & Greet at OR Tambo airport- assist to check-in
FLIGHT: Johannesburg/Hoedspruit  INCLUDED
Transfer to Kapama Game Reserve or the like.
Kapama conservation levy
Kapama River Lodge, standard suite                                       FB+2GD
FB = Full Board ie all meals, soft drinks etc plus 2 game drive activities per day.
Within the expansive Kapama Private Game Reserve, River Lodge epitomizes five-star safari accommodation. The majestic northern Drakensberg mountains form the backdrop to the 64-suite River Lodge, which is positioned along a bend of the seasonal Kapama River. It's the largest luxury game lodge in the Greater Kruger National Park area, and is stylishly furnished to ensure an unforgettable African safari experience.
Suites
River Lodge's 40 spacious air-conditioned suites have uninterrupted views over the Big Five game reserve from private patios, and all feature full, en-suite bathrooms with lavish amenities replenished daily. The suites are decorated to reflect old Africa in a luxury game lodge setting. Beverage stations for early morning coffee in suite and minibars for sundowners on your private patio are standard in all rooms.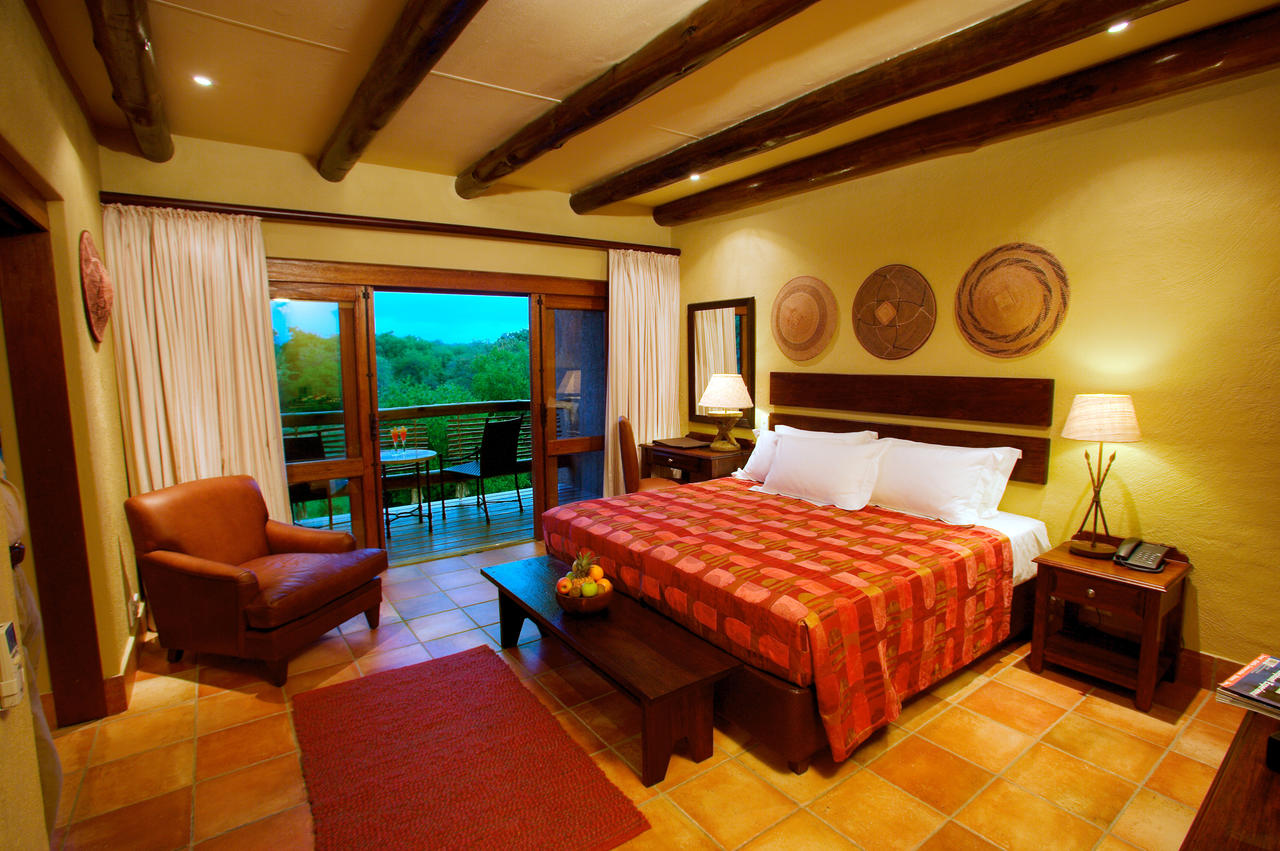 Dining
In true African luxury safari style, Kapama offers guests three different dining venues.
As in classic old Africa, evening meals are often enjoyed seated around a roaring fire in the Rhino Boma. Here, buffet meals are served under open-sided thatch and showcase pan-African dishes prepared from fresh local ingredients. Traditional venison dishes also feature on this authentic African menu.
Romantic dining is epitomized by dinner set in the dry riverbed in front of the lodge, under a star-studded African night sky. The experience adds enchantment to any African luxury safari experience.
The Siyatla Lounge is purpose-built as an enclosed dining area, where breakfasts and lunches are served. It has its own bar and lounge with two large fireplaces, while glass stack doors open up the lounge to the surrounding bushveld.
All cuisine at Kapama is prepared using fresh seasonal ingredients and herbs grown in the lodge gardens. Traditional South African dishes and accompaniments, such as mealie pap (African-style polenta) and chakalaka (a hot, spicy relish) further enhance the luxury game lodge experience by giving a taste of real Africa. Menus include warthog stew, kudu casserole, impala sausages and oxtail curry. Vegetarians, vegans and various other dietary requirements are easily catered for.
12 Apr '18    Kapama River Lodge, standard suite                                       FB+2GD
2x game drives per day ie am and pm. Depending on the Lodge used, there may be other
extra activities available at your account ie elephant interaction, a wildlife rehabilitation center.
Across all of Kapama's lodges, two daily game drives are offered and are included in the tariff. Accompanied by a skilled ranger and tracker, guests can expect to encounter a diverse range of animal and bird species on game drives. Since this is a Big Five reserve, seeing lion, leopard, elephant, rhino and buffalo is possible over a two-day safari in Kapama Private Game Reserve.
The day starts with an early wake-up call between 5am and 5:30am. Tea, coffee and rusks are enjoyed together before heading out at first light. While seeing big game is always exhilarating, there are many other smaller species that are also captivating, and birding enthusiasts will be delighted at the approximately 350 species of birds recorded on the reserve.
Halfway through the game drive, there's a stop for hot drinks and snacks, before returning to the lodge at around 9am for a full breakfast. Throughout the day, it's likely you will see wildlife around the lodge – nyala antelope and vervet monkeys are frequent visitors, though seeing some of the Big Five is also not uncommon.
At around 3:30pm, everyone gathers for a decadent high tea, before heading out with your ranger and tracker for the afternoon game drive through the reserve.
En route, you'll stop for a sundowner drink and will have a chance to stretch your legs as you watch the sun set over the distant peaks of the Drakensberg mountains.
As darkness falls, the nocturnal animals of the bush come out. The skilled tracker will scan the landscape using a spotlight, which illuminates animals' eyes. A variety of completely different species can be seen on the night drive back to the lodge.
Arrival is at the lodge is usually around 7pm, allowing time to freshen up before enjoying a sumptuous dinner.
13 Apr '18    
This am we will have a shortened game drive as we need to be ready to leave the lodge by 1030 ish as we fly down to the Eastern Cape,home to that great humanitarian Nelson Mandela.
We will arrive later afternoon and transfer to our hotel.
Dinner on own account to night.
Suggest all get a good night's sleep as we dive deep into the Culture tomorrow.
14 Apr '18
After a early am breakfast we head over to:
The Nelson Mandela Museum has been recently upgraded and its a fascinating, compelling dive into the life of this unique human being.We usually give 1 to 1.5 hrs at the museum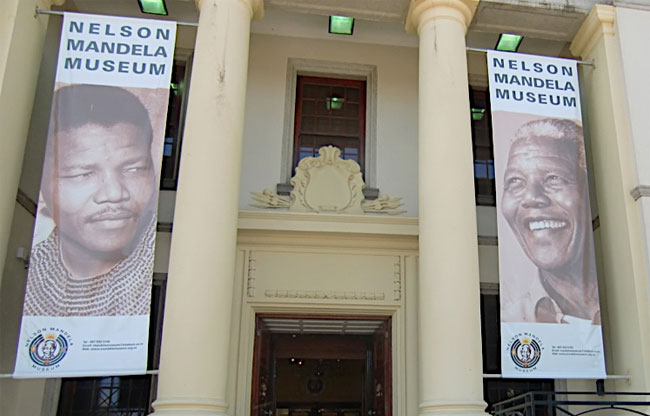 There after we will drive south stopping at Quno his village where he grew up.
We will stop for lunch included and talk at the Institute for African Culture and Spirituality.
Thereafter we will drive down through the scenic Eastern Cape to the Kings Place where we will spend the night.
We will pass rolling hills of villages, smaller towns before arriving at the Kings place.
If we have time we will stop at the Bisho massacre memorial or the Steve Biko Center.
Traditional dancers will perform for you before Dinner which is included.
 Lodging for the night at the Kings place…En suite
15 Apr '18
After breakfast we will head toward East London from where we will fly to Cape Town.
However before that we will stop at a Village soup kitchen, a day care center where the young ones will entertain us with traditional dancing, and we will lunch (own account) at a tavern owned by a disabled wheel chair bound Individual who will share his story of dreaming and succeeding with us.
We head to the airport in the pm and fly directly to Cape Town.
We will have porters and a local greet available to help with this process.
Meet & Greet Cape Town Airport
Transfer to hotel
Commodore Hotel, standard room                                          BB
View from the Commodore Hotel
Your guide will accompany you to your hotel,situated close to the famous V and A waterfront,full of restaurants, shops,money exchange,supermarkets,coffee shops etc.
Regarded as one of the most beautiful cities in the world, Cape Town is a "foodies" paradise, along with stunning beauty and a rich history all adding up to an exciting modern yet African in atmosphere modern city.
The Commodore Hotel lies where Table Mountain and the sea meet.
Overlooking the Victoria and Alfred Waterfront, with views of Table Mountain, Robben Island, the Harbor and the Atlantic Ocean, is the luxury accommodation of The Commodore Hotel.
The Commodore Hotel epitomizing stylish living, quality service and a tranquil setting.
These rooms offer all amenities that a guest on a well-deserved vacation will expect.
These rooms have modernized bathrooms equipped with showers-over-bath, plenty of space and natural light. We offer exceptional quality in bedding and toweling.
All Luxury rooms offer either two 3/4 or a queen size, extra length beds.
16 Apr '18    Full day city/Table Mountain/Robben Island
Table Mountain ticket (weather dependent)
Visit The Castle & Company's Garden
Drive by Parliament, City Hall & Slave Lodge
Visit the colorful Bo Kaap & Malay Quarter
Lunch at Kombuis Kitchen                                                    L
This restaurant specializes in Cape Malay cooking, and has an awesome view of Table Mountain.They cater to vegetarians as well.
Drop off at V&A waterfront
Walk to ferry terminal
Robben Island tour (weather dependent)
Robben Island (Afrikaans: Robbeneiland) is an island in Table Bay 4.3 mi west of the coast of Bloubergstrand, Cape Town, South Africa.
The Apartheid government wasn't the first to use the island as a prison. In the 17th and 18th centuries, the Dutch sent political prisoners from the Dutch East Indies to the island. There is a Kramat (holy shrine) on the island dedicated to the Prince of Madura – Pangeran Chakra Deningrat – who died on the island in 1754, and the first chief imam of the Cape spent 13 years (from 1780 to 1793) imprisoned on the island.
When the Brits took over in the Cape, they too used the island to imprison those who resisted their rule.  After a failed uprising in Grahamstown, they sent the instigator, Makanda Nxele, to the island. He managed to overpower the guards, but didn't survive the swim to the mainland. However, there were others who managed the escape. The first person to successfully make the swim from Robben Island to the mainland – no easy feat given the treacherous rocks, icy water, and possibility of sharks – was a convict called Jan Rykman in 1690.
Forget palm trees and sun-kissed beaches; Robben Island's allure lies in its rich and wretched history. South Africa's first democratically elected president – Nelson Mandela – spent 18 years of his 27 years in prison on Robben Island. Easily the most famous of the island's political prisoners, Mandela was by no means the island's only notable inmate – South African presidents Kgalema Motlanthe and Jacob Zuma also spent time there.
Commodore Hotel, standard room                                          BB
17 Apr '18
Full day Cape Point & Stellenbosch winelands
The Cape of Good Hope Tour,the mother of all scenic tours in South Africa.
On this Cape of Good Hope Tour we will show you the The Fairest Cape…and it surely is! You'll soon see for yourself where and why it earned its name.
We start our Cape of Good Hope Tour  by you sitting back and relaxing, as we  cruise along the exquisite stretch of coastline known as Millionaire's Paradise – from Camps Bay and Clifton to the exclusive beach hamlet of Llandudno – towards the charming working harbour of Hout Bay; if you so choose, you can embark on an up-close-and-personal Seal Island cruise (own account).
Thereafter, we wind along the legendary Chapman's Peak Drive, hugging the cliffs and relishing the breath taking ocean views, before arriving at our lunch spot of choice (own account): the wild and beautiful Cape of Good Hope Nature Reserve, an integral part of the world-renowned Cape Floral Kingdom.
Then it's on to Cape Point where (by tradition) two marine ecosystems and oceans meet. Here they will experience the grandeur of one of the highest sea cliffs in the world, the drama of the two mighty oceans meeting to become one, the scenic splendour, intriguing history and abundant visitor attractions of the Cape of Good Hope at the south-western most tip of Africa.
There is a choice to either walk up to the point or ride on the funicular.
After lunch, the coach moves through to Boulders Beach, which is home to a growing colony of the vulnerable African (or 'Jackass') penguin, which may easily be viewed at close quarters from the boardwalk.
Penguins at Boulders Beach
Lunch at Bertha's restaurant in Simon's Town                                     L
Drive to the Cape Winelands:
Stellenbosch is a town in the Western Cape province of South Africa, situated about 50 kilometres (31 miles) east of Cape Town, along the banks of the Eerste River at the foot of the Stellenbosch Mountain. It is the second oldest European settlement in the province, after Cape Town. The town became known as the City of Oaks or Eikestad in Afrikaans and Dutch due to the large number of oak trees that were planted by its founder, Simon van der Stel, to grace the streets and homesteads.
Cape Dutch architecture is a traditional Afrikaner architectural style found mostly in the Western Cape of South Africa. The style was prominent in the early days (17th century) of the Cape Colony, and the name derives from the fact that the initial settlers of the Cape were primarily Dutch. The style has roots in medieval Netherlands, Germany, France and Indonesia.
Houses in this style have a distinctive and recognizable design, with a prominent feature being the grand, ornately rounded gables, reminiscent of features in townhouses of Amsterdam built in the Dutch style.
The Cape Dutch architectural style is defined by the following characteristics:
Whitewashed walls
Thatched roofing
Large wooden sash cottage panes
External wooden shutters
Long horizontal structures, usually single or double story, often with dormer windows
Green detailing is often used
We continue in the afternoon with some more wine tasting and will return back to the hotel mid-afternoon.
Commodore Hotel, standard room                                          BB
18 Apr '18
Mostly a full day township tour with lunch at Lelapa.
Today we will have a social learning journey visiting local township entrepreneurs, a community garden we will work with locals for a few hours,and visit a local arts/craft community center. If there is any interest, we could visit a local school.
Talking with the entrepreneurs,seeing the community garden and how it has changed peoples lives will answer the question of this tour..has the dream being been realized? What I am sure you will discover, for some yes, for others no.
Community Garden Khayelitsha township, outside of Cape Town.
Lunch at Lelapa will have a distinctive South African flavor to it…the choices,tastes and background marimba band music will leave you filled up in more ways than one.
If ever there was a reality based version of realizing your dreams, Sheila owner of the restaurant is it.
We will want to return by 3pm or so, as we leave that evening for our farewell dinner at our African themed restaurant, which will include a pre-dinner Africa group drumming lesson
After some rest we will head for our farewell dinner at the Gold Museum complete with North African theatrical acts and food from across Africa.
It's an unique African restaurant in the heart of Cape Town. The 14 course Cape Malay and African menu is a taste safari that will transport you from Table Mountain to Timbuktu.
This culinary experience is accompanied by unique interactive traditional entertainment.
The Restaurant offers 3 unique performances during your dinner, starting with a praise singer who welcomes you and introduces you to the singers, dancers, puppets and musicians.
The second performance showcases the vibrant dancing and celebrations in Africa. Be captivated during dinner by our tall, graceful Mali Puppets as they dance around your table accompanied by drummers, dancers and singers. This live entertainment will embrace and transport you into the heart of Africa.
The third performance is in honour of our royal African queens.Our queen will scatter 24 carat gold dust on our guests to say thank you for visiting us.
Guests can also participate every evening in an interactive drum circle where each participant is taught the different sounds and rhythms of the djembe.
Commodore Hotel, standard room                                          BB
19 Apr '18
Morning visit to Greenmarket Square,the art/craft market. (time permitting) or it oculd be free time for last minute personalized shopping.It may very well be that the flight from Cape Town departs in the afternoon leaving the whole morning free.
Its possible for this am as well to arrange a talk by the director Tembe of one of South Africa's oldest political NGO's(non profits) talking about where does South Africa go from here?Tembe is a dynamic speaker who loves to share his insight and engage in dialogue.
What a way to end this journey that has the question "Has the dream been realized? " been asked at different times along this trip.
Tembe is one who has turned a dream into reality
Transfer to Cape Town Airport
Meet & Greet – assist to check-in
Say good bye to Cape Town and South Africa as you make your way back home.